Event
From ISIS to AfD: Ultraist Rhetoric and Visuality in Orientalist Concurrence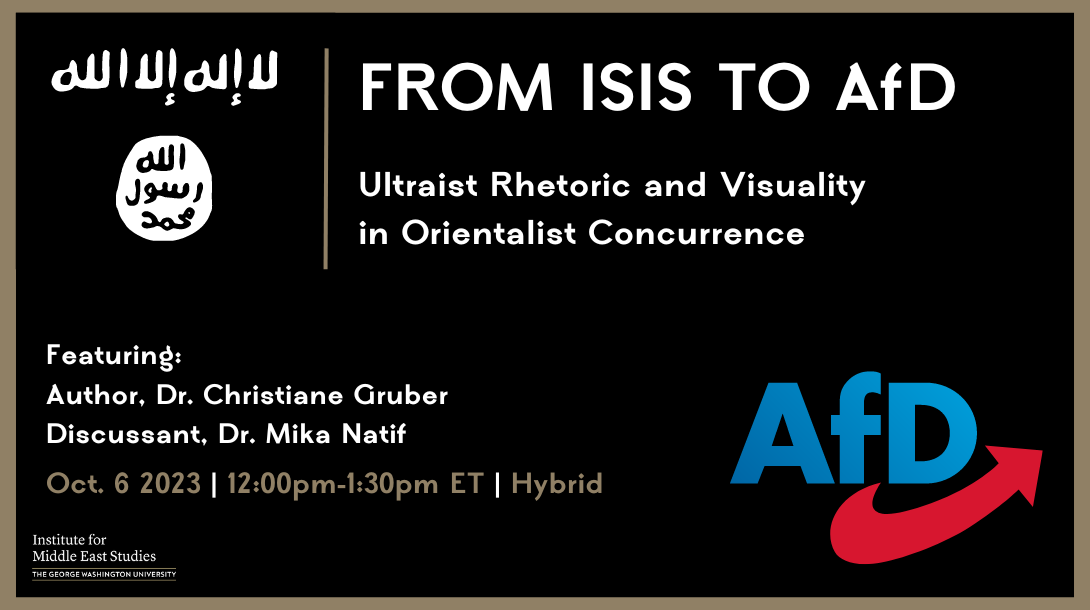 This is a hybrid event. Attendees may watch remotely on Zoom or attend in-person at 1957 E St. NW, Room 505, Washington, D.C.
When ISIS militants burst onto the scene more than six years ago, journalists and pundits were quick to label the Islamist group a medieval martial movement. Since then, however, scholars have shown how this particular extremist group—one among many ultraist socio-political formations active worldwide—should in fact be considered hyper-modern in its use of futuristic-nostalgic rhetoric, astutely crafted visual messaging, and vast portfolio of media and communication technologies. As of late, however, ISIS has been outstripped in sheer production and online presence by a number of right-wing political groups in Europe and the United States, such as Identity Evropa, Alternative für Deutschland, Act for America, and Stop Islamization of America. A close analysis of the rhetorical and visual production of these Euro American extremist and hate groups reveals not a diametric clash with ISIS's own output but rather a concurrence in symbolic lexica, in which, above all, a new form of Orientalism—of anathemizing the perceived other—is asserted to craft and entrench a nativist stance. This "border security" stance involves a range of identity-based taxonomic simplifications as well as a calculated instrumentalization of fears linked to migration, miscegenation, and misogyny. Based on a chapter in the forthcoming volume Disentangling Jihad, Political Violence and Media (Edinburgh University Press 2023).
This event is cosponsored by the Department of Art History and the student-run Visiting Artists and Scholars Committee (VASC) in the Corcoran School.
Mika Natif focuses on the intercultural exchanges and global connections that Muslim societies forged with the European sphere during the premodern period. Her primary field of research is Islamic painting, with special interest in Central Asia, Iran, India, and the Mediterranean. Natif recently published her book titled Mughal Occidentalism: Artistic Encounters Between Europe and Asia at the Courts of India, 1580-1630 (Leiden: Brill, 2018). Her current research explores notions of images, diversity, and religious tolerance in the arts of Mughal India, female portraiture, and the role of women as patrons and artists in the pre-modern Persianate spheres. She also co-edited and co-authored, with Francesca Leoni, Eros and Sexuality in Islamic Art (Surrey: Ashgate Publications, October 2013).

Christiane Gruber is Professor of Islamic Art in the History of Art Department and Visiting Curator for Islamic Art (2023-24) in the Kelsey Museum of Archaeology, University of Michigan, Ann Arbor. She is also Founding Director of Khamseen: Islamic Art History Online. Her primary fields of research include Islamic book arts, paintings of the Prophet Muhammad, and Islamic ascension texts and images, about which she has written three books and edited several volumes of articles.