Event
Gender, Violence, and the Geopolitics of Feminism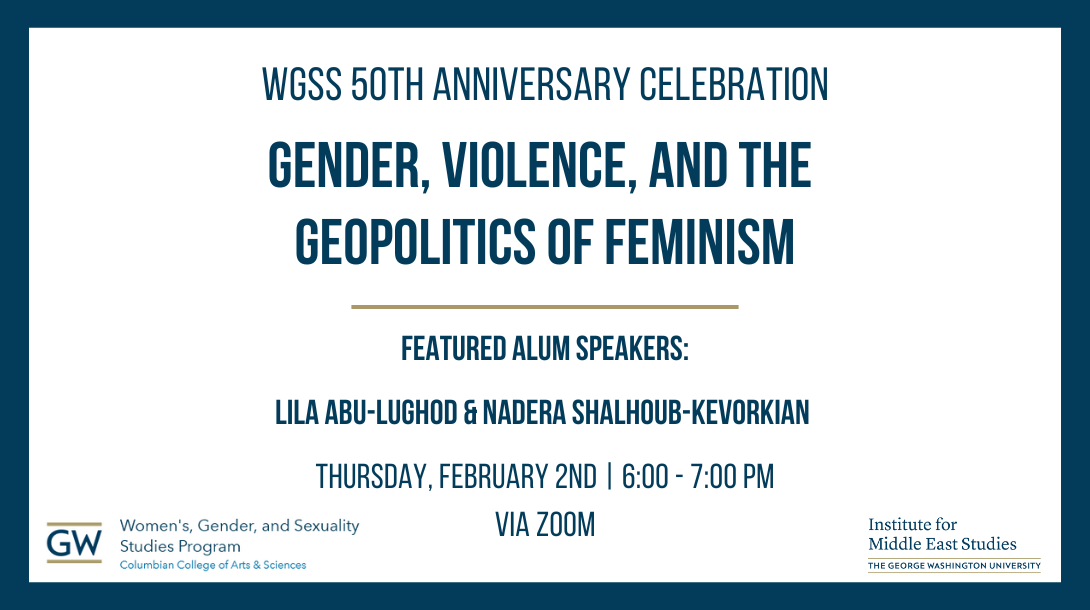 Join the WGSS program for our kickoff event of Spring 2023 to celebrate 50 years at GW! We will feature Lila Abu-Lughod and Nadera Shalhoub Kevorkian who will share their expertise on "Gender, Violence, and Governance Feminism."
After submitting your RSVP, you will receive the Zoom connection details via email the week of the event.
Lila Abu-Lughod is a Professor of Social Science within the Department of Anthropololgy at Columbia University in the city of New York. Her work, strongly ethnographic and mostly based in Egypt, has focused on three broad issues: the relationship between cultural forms and power; the politics of knowledge and representation; and the dynamics of women's and human rights, global liberalism, and feminist governance of the Muslim world. Current research focuses on museum politics in Palestine and other settler colonies, security discourses and Islamophobia, and religion in the global governance of gender violence.

Nadera Shalhoub-Kevorkian is the Lawrence D. Biele Chair in Law at the Faculty of Law-Institute of Criminology and the School of Social Work and Public Welfare at the Hebrew University of Jerusalem and the Global Chair in Law- Queen Mary University of London. Her research focuses on trauma, state crimes and criminology, surveillance, gender violence, law and society. She studies the crime of femicide and other forms of gendered based violence, violence against children in conflict ridden areas, crimes of abuse of power in settler colonial contexts, surveillance, securitization and social control. the author of numerous books among them "Militarization and Violence Against Women in Conflict Zones in the Middle East: The Palestinian Case Study" published in 2010; "Security Theology, Surveillance and the Politics of Fear", published by Cambridge University Press, 2015.