Event
Imaginary Divides: The Middle East and Africa Across Empires, Oceans, and Borders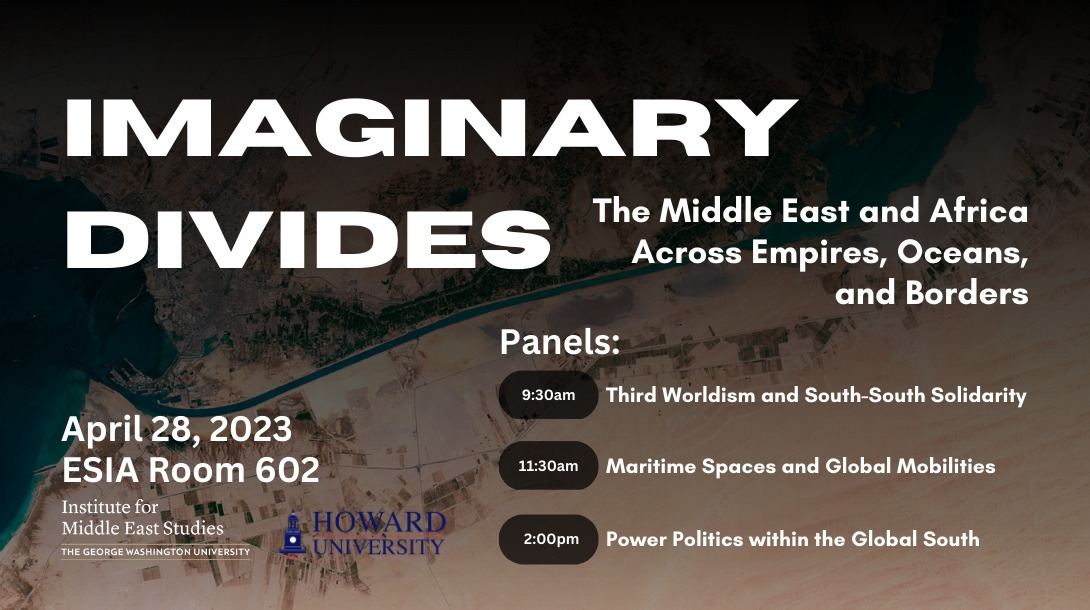 Conference Description
The conference interrogates the naturalized boundaries of the Middle East and North Africa (MENA). It seeks to understand the relationship between the region and its adjacent spaces, particularly sub-Saharan Africa and the Indian Ocean. How can we reimagine the relationship between the MENA and other alternative geographies, challenging the imagined divides between them? We bring together a diverse group of scholars to think through the entanglements between, across, and beyond categories of region, nation, and language, and to foreground the uneven power relations that exist between particular regions, and the possibilities for transcending them. To do this, we consciously invite scholars whose research may not fit perfectly within regional categories or a single discipline. The conference brings together emerging and established scholars to think through these engagements across space and time, foregrounding scholarship that has not historically been spotlighted, and creating new conversations across specializations.
Panels
There will be brief intermissions from 11:00am – 11:30am (between panels 1 and 2) and 1:00pm – 2:00pm (between panels 2 and 3) to allow for a coffee break and lunch.
1) Third Worldism and South-South Solidarity
9:30am-11:00am
Panelists will explore how people in different parts of the world imagined the possibilities for solidarity across borders among dispossessed, colonized, and/or racialized subjects. Are there particularities that characterize forms of solidarity that cross-cut MENA and Sub-Saharan Africa and how are such solidarities constituted?
Paraska Tolan Szkilnik (Suffolk University): Maghreb Noir: Pan-African Futures in North Africa
Zachariah Mampilly (Baruch College)
Yousuf Al-Bulushi (University of California – Irvine): Solidarity and the Dar School
Rosie Bsheer (discussant, Harvard University)
Anaheed Al-Hardan (panel chair, Howard University)
2) Maritime Spaces and Global Mobilities
11:30am – 1:00pm
Maritime spaces are often conceptualized as barriers that separate, or as conduits that connect the MENA and sub-Saharan Africa regions.  How significant are such spaces to the types and tenor of interrelation between these regions?  How have these interrelations and their relative significance changed historically?
Matthew Hopper (California Polytechnic): Liberated Africans in Aden 1861-1897
Jatin Dua (University of Michigan): Stuck: Chokepoints and (Im)mobility in the Indian Ocean
Renisa Mawani (University of British Columbia): Enemies of Empire
Laleh Khalili (discussant, Queen Mary University of London)
Sara Rahnama (panel chair, Morgan State University)
3) Power Politics within the Global South
2:00pm – 3:30pm
This panel examines different types of interrelations, both past and present, that connect MENA and sub-Saharan Africa, and scrutinizes the asymmetrical forms of power that both animate and are produced through these interrelations.  Forms of interrelations include, but are not limited to the movement of goods and peoples, systems of governance, investment and resource extraction.
Nisrin Elamin (University of Toronto): Toward a method and theory of emergent forms of empire-making in and beyond Sudan
Mostafa Minawi (Cornell University): Reading Difference: Inscribing Race in the Late Ottoman Empire
Beeta Baghoolizadeh (Princeton University): Circuitous Freedom: narratives from a so-called abolition
Eve Troutt Powell (discussant, University of Pennsylvania)
Mona Oraby (panel chair, Howard University)