Event
Implications of the Conflict in Ukraine on the Middle East Security Complex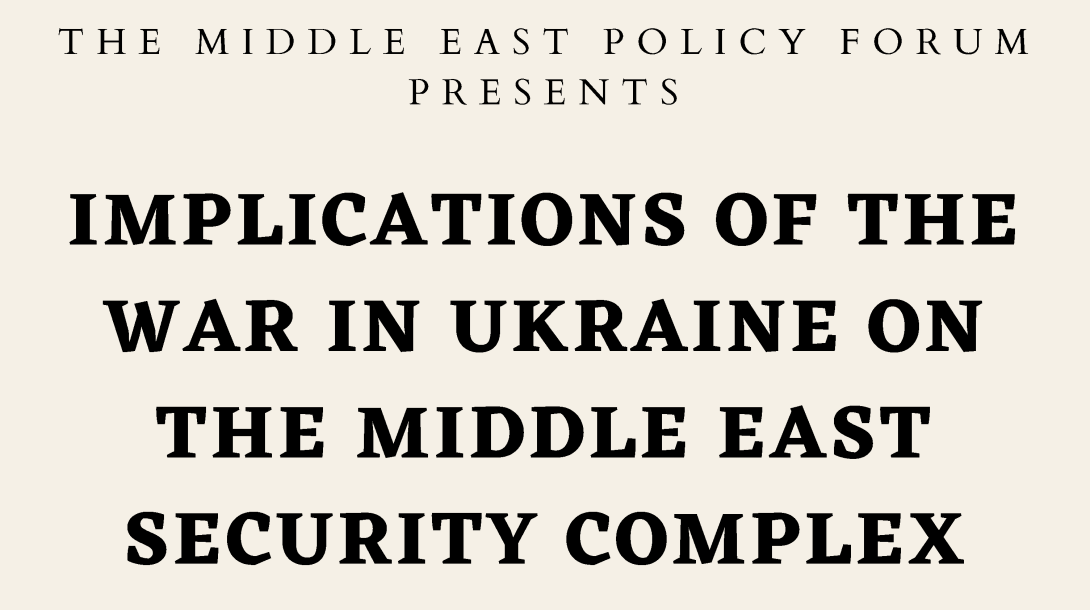 Join the Middle East Policy Forum (MEPF) for Implications of the Conflict in Ukraine on the Middle East Security Complex on Zoom on April 22th 2022 from 2:00-3:00 PM EST
Russia's invasion of Ukraine has had implications for the entire globe. The conflict has had a particularly destabilizing effect on the Middle East, from the reluctance of US regional allies to condemn the attack, to the question of the Iran nuclear agreement and the threat of Russia's deepening engagement in the region. These tensions are heightened as volatile oil prices, rising inflation, and a reconfiguration of alliances call Middle East stability into question.
The panel will be moderated by Negar Mortazavi, a columnist for The Independent and host of the Iran Podcast, Mortazavi has been working in Washington, D.C. as a journalist and political analyst covering Iranian affairs for over a decade.
This event is co-sponsored by the Institute for European, Russian and Eurasian Studies (IERES). The Middle East Policy Forum is presented with the generous support of ExxonMobil.
Alex Vatanka is the Director of the Iran Program at the Middle East Institute. He specializes in Middle Eastern regional security affairs with a particular focus on Iran. Alex is also a Senior Fellow in Middle East Studies at the US Air Force Special Operations School (USAFSOS). He has testified before the US Congress and lectured widely for both governmental and commercial audiences, including the US Departments of State and Defense, US intelligence agencies, and a list of international corporations. He is the author of two books: "The Battle of the Ayatollahs in Iran: The United States, Foreign Policy and Political Rivalry Since 1979" (2021) and "Iran and Pakistan: Security, Diplomacy, and American Influence" (2015). He is presently working on his third book "Iran's Arab Strategy: Defending the Homeland or Exporting Khomeinism?"

Sina Azodi is a Visiting Scholar at the GW Institute for Middle East Studies. He is also a Non-Resident Fellow at the Atlantic Council, and a PhD candidate in International Affairs. His research interests include international security, nuclear non-proliferation, and US-Iranian relations. He previously worked as a Research Assistant at Princeton University's Program on Science and Global Security and Woodrow Wilson International Center for Scholars. He is a frequent commentator on both English and Persian-speaking media. Sina earned his BA and MA in International Affairs from the Elliott School of International Affairs, George Washington University.

Nicole Grajewski is a predoctoral research fellow at the Belfer Center's International Security Program. She is a doctoral candidate in the Department of Politics and International Relations at the University of Oxford where her dissertation examines Russian and Iranian approaches to international order and security. Her research interests include military interventions and international law, Eurasian regional organizations, Russia-Iran relations, and the foreign policies of Russia, Iran, Kazakhstan, and Kyrgyzstan. She holds an MPhil in Russian and East European Studies from the University of Oxford and BA in International Affairs, Security Policy and Middle East Studies from the George Washington University's Elliott School.