Event
Interlaced: Power, Space, and the Textile Trade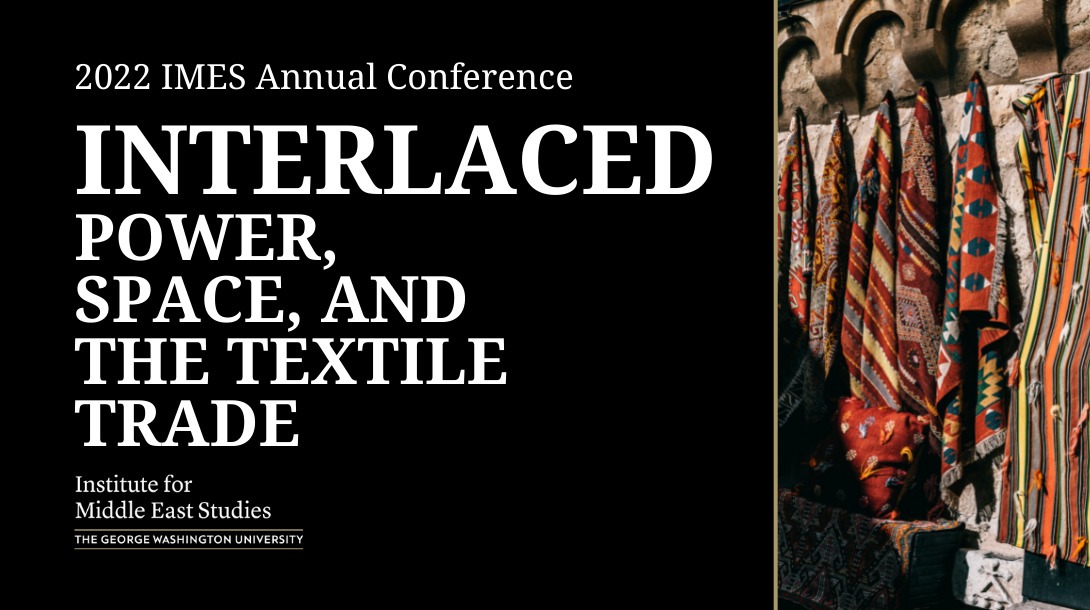 ​​All panels will be held in the same Zoom meeting at the times indicated below. There will be brief intermissions from 11:00am – 11:30am (between panels 1 and 2) and 1:00pm – 2:00pm (between panels 2 and 3) to allow for a coffee break and lunch. This event is co-sponsored by The George Washington University Museum and The Textile Museum.
Textiles are fundamental to the histories of the Middle East, Islamic societies, and the broader cross-cultural networks which they wove together. This day-long, interdisciplinary symposium investigates the theoretical and practical aspects of textiles, including their design, production, taxation, circulation, trade, and consumption, as well as connections to court performance, domestic and ethno-national spaces, gender, rituals, and textual discourses. Through an examination of diverse manifestations of the fiber arts, panelists will trace, analyze and reflect on their cultural, social, economic and political significance for the Middle East and the Islamic world more broadly.
Panel 1: Silk, Felt, and Turko-Mongol Identities
9:30am – 11:00am
This panel highlights the use of textiles (including felt) as markers of authority and legitimacy in the Turko-Mongol spheres. Participants will explore how the use of particular textiles and attire embodied notions of rulership and charisma, reflecting the long-lasting impact of the Chingizid world over diverse geographical places and times. The papers presented by the panel will span the geographic areas of Mongolia, Iran, Central Asia, and Mughal India.
Featuring:
Mika Natif – The George Washington University
Ron Sela – Indiana University
Eiren Shea – Grinnell College
Elizabeth Dospěl Williams – Dumbarton Oaks Museum
Panel 2: Textiles and the Production of Premodern and Early Modern Spaces
11:30am – 1:00pm
This panel will investigate how textile production, circulation/trade, consumption (including but not limited to use as furnishings and sartorial performances), and preservation (e.g. museum practices) are integral to the production of (interrelated) spatial ontologies, including domestic, ethno-national, and inter-regional spaces.
Featuring:
Attiya Ahmad – The George Washington University
Patricia Blessing – Princeton University
Richard Bulliet – Columbia University
Nader Sayadi – Metropolitan Museum of Art
Panel 3: Texts, Textiles, and Trade in the Medieval Islamic World
2:00pm – 3:30pm
Spanning Fatimid, Mamluk, and early Ottoman periods, this panel will bring into conversation work on labor/production/taxation on rural farms with the lettered culture and commercial practices of long-distance traders. A sub-theme that panelists will be asked to explore is how textiles and the textile trade were both generative of and contingent upon certain textual discourses.
Featuring:
Joel Blecher – The George Washington University
Lorenzo Bondioli – University of Cambridge
Amanda Phillips – University of Virginia
Sumru Krody – The Textile Museum