Event
Iran and the World: What You Need to Know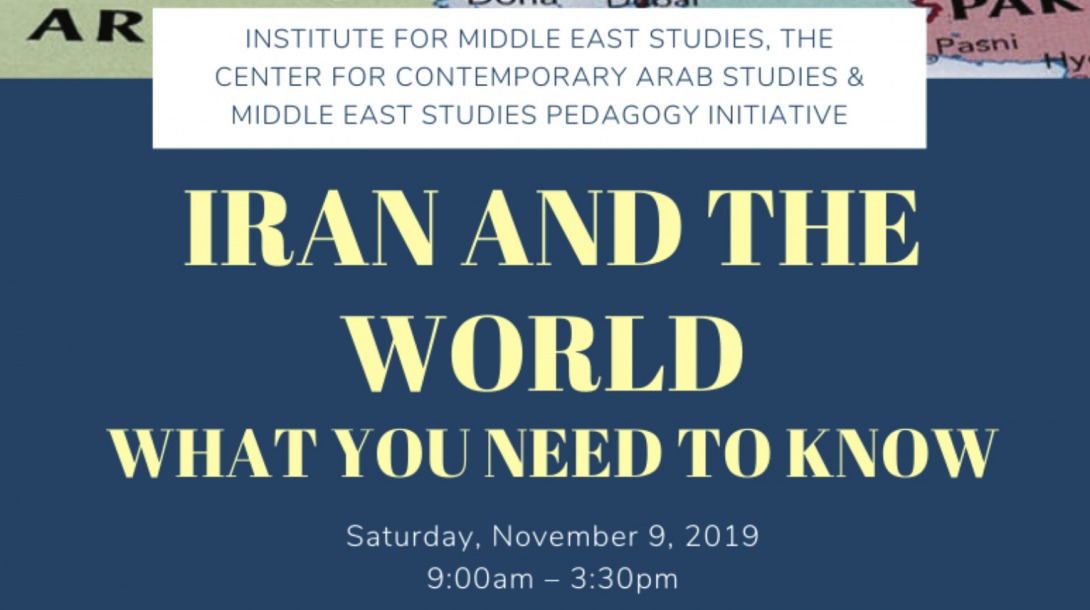 In this workshop, participants will hear a range of perspectives that contextualize contemporary Iranian history and culture within a framework of regional and global dynamics. Expert speakers will discuss topics including the role of the Islamic Revolution in shaping contemporary politics and culture; Iran's relationship with neighbors in the Middle East and Central Asia; and U.S. foreign policy on Iran. We will hear from educators who are creating curricular resources that highlight diverse Iranian responses to contemporary politics.
This workshop is a collaboration between GW's Institute for Middle East Studies, Georgetown University's Center for Contemporary Arab Studies, and the Middle East Studies Pedagogy Initiative at George Mason University.
A light breakfast and lunch will be provided.
Arang Keshavarzian Arang Keshavarzian is Associate Professor of Middle Eastern and Islamic Studies at New York University. His research focuses on modern Iranian politics, the political economy of the Persian Gulf region, and comparative politics of the Middle East. In addition, he has also studied, conducted research, and taught in several other countries in the Middle East and North Africa, including the United Arab Emirates, Egypt, and Turkey. Keshavarzian's research has revolved around questions of social change and struggles as reflected in and produced by socio-economic hierarchies, political imperatives, spatial practices, modes of accumulation, and collective solidarities. At NYU, Arang Keshavarzian teaches both undergraduates and graduates. He is the author of Bazaar and State in Iran as well as essays in such journals as Politics and Society, International Journal of Middle East Studies, Geopolitics, Arab Studies Journal, Middle East Report, and Economy and Society.

Negar Razavi Negar Razavi is a political anthropologist with a focus on critical security studies, expertise, gender, race, and U.S. foreign policy in the Middle East. Her research specifically examines the role of policy experts and think tanks in shaping U.S. security policies towards Iran and Egypt. She received her PhD in anthropology from the University of Pennsylvania and is teaching at William and Mary as a Visiting Assistant Professor in anthropology

Safoura Nourbakhsh Safoura Nourbakhsh is a recipient of the Roshan institute fellowship in Persian studies. She holds a BA and MA in English literature from San Francisco State University and a PhD in Women's Studies from the University of Maryland, College Park. Her research and interdisciplinary training travel through many fields and histories, from medieval Persian Sufi literature and histories to contemporary spiritual communities in Iran, women's literature, women's rights discourse in Iran, and feminist theory in translation. She has written for many feminist publications in Iran, including Zanan magazine, Zanestan, and Jens-e dovvom. She helped plan, design, and execute Zannegar (an online journal of women's studies for Iranian women) and acted as its project manager and editor for the first four issues. She is currently teaching women's and gender studies courses at Georgetown University while working on her book on gender and sexuality in Persian Sufi traditions.

Mehrdad Kia Mehrdad Kia is Professor of History and Director of the University of Montana's Central and Southwest Asian Studies Center. His research and teaching focus on the history of the Middle East, Central Asia, North Africa, and Islamic Civilization. He has published extensively on the emergence of a new Muslim intelligentsia that focused primarily on issues of political modernization, socio-economic reform, and the relationship between the Islamic world and the West. Professor Kia has won several teaching awards at the University of Montana including in 1997 the Distinguished Teacher of the Year and in 1999 the Most Inspirational Teacher of the Year. In 2000, the Carnegie Foundation for the Advancement of Teaching honored Professor Kia as one of the U.S. Professors of the Year. He is currently working with graduate students whose research focuses on colonization of Central Asia and parts of the Middle East by the Russian and British empires.

Naysan Rafati Naysan Rafati is Crisis Group's Iran Analyst. His research is focused on the Iran nuclear deal and Iran's regional policies. He joined the organisation in October 2017 and is based in Washington. Prior to joining Crisis Group, Naysan was a Transatlantic Postdoctoral Fellow in International Relations and Security (TAPIR) at the RAND Corporation, the United States Institute of Peace, and the Institut français des relations internationales. He holds MSt and DPhil degrees in Oriental Studies from St Antony's College, Oxford, where he was awarded the Albert Hourani and Jenkins Memorial Scholarships and taught various courses on Middle East politics and history. He received his BA magna cum laude from Yale. Naysan has written for a variety of publications including Foreign Affairs, Foreign Policy, Le Monde Diplomatique (English), and the Financial Times.

Amin Mohseni-Cheraghlou Professor Mohseni's research interests include development macroeconomics, social economics, political economy of the Middle East, and Islamic finance/economics. He has taught courses on micro/macroeconomics, history of economic thought, development economics, and mathematical economics. He is the co-author of a 2010 book titled The Militarization of the Persian Gulf: An Economic Analysis. Mohseni earned a PhD in Economics and an MA in International Development from American University and he also earned a BS in Electrical Engineering from the University of Maryland.

Rustin Zarkar Rustin Zarkar holds a B.A. in Middle Eastern & Islamic Studies, Politics from NYU and an M.A. in Middle Eastern Studies from Harvard University. Currently, Zarkar is a PhD candidate on the Persian Literature track. His doctoral research focuses on material, literary, and visual culture– specifically cultural production and circulation in and around the Caspian Sea. His archival work has taken him across Iran, Russia, Central Asia, and the Caucasus, and his other interests include customs regimes, urban space, and the history of print. Zarkar is a Co-Founder and Co-Editor of Ajam Media Collective, an online space devoted to documenting cultural, social, and political trends in Iran, Central Asia, and the Caucuses. In addition, Zarkar is a podcast host, editor, interviewer and producer for Ajam Podcast and Emerging Scholarship Podcast where current events, history, and politics from Anatolia to South Asia are covered in the radio show.