Event
Libya's Elections: A Transition to Democracy?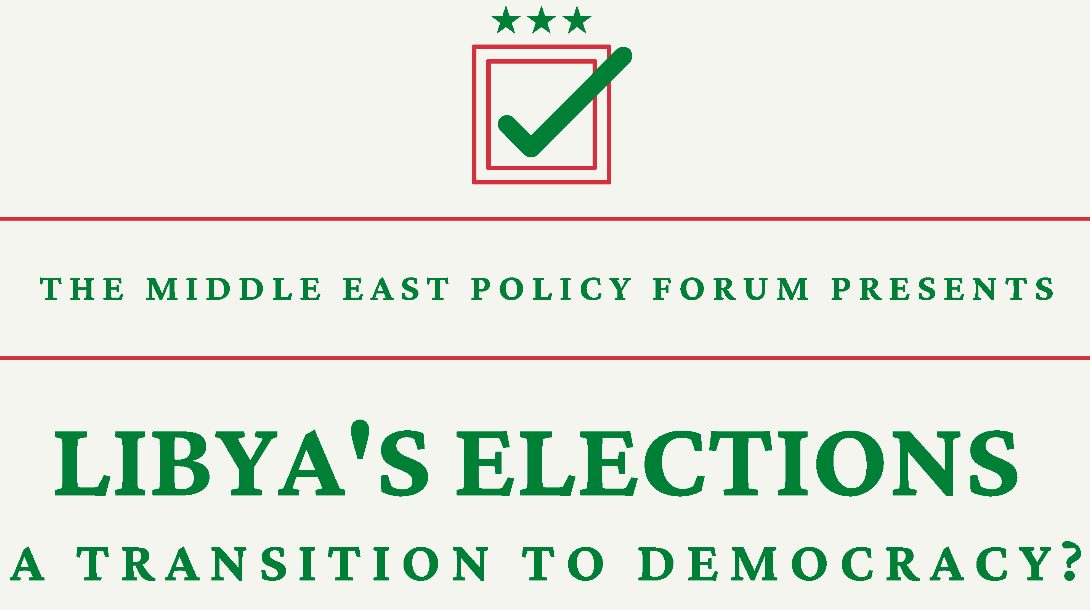 Libya's long-awaited presidential elections are once again on hold, delayed in December 2021 in order to clarify the legal basis for the elections and candidate eligibility. While a fragile ceasefire has largely held, disputes over who can run for the presidency threaten to complicate the situation. Among the possible candidates are Prime Minister Abdul Hamid Dbeibeh, head of the internationally-recognised government in Tripoli, Khalifa Haftar, head of the Libyan National Army which controls much of the south and east of the country, and Saif al-Islam, son of the former leader Muammar Gaddafi. With just a few weeks to go before the tentative new election deadline, will the elections go forward? If so, will the process allow for the kind of consensus needed to forge a strong central government capable of unifying the country? How will international actors play a role?
Join MEPF for a panel discussion featuring Dr. Lamees BenSaad, Mary Fitzgerald, and Tarek Megerisi with moderator Sarah Yerkes. If you are unable to attend, a recording will be made available after the event.
The Middle East Policy Forum is presented with the generous support of ExxonMobil.
Dr. Lamees BenSaad is a political activist, a member of the Libyan Political Dialogue Forum, and an assistant professor at the University of Tripoli. Since 2015, Dr. BenSaad has been an active advocate for peace building, sustainable development, and women rights, working in collaboration with For You Libya Group, Tripolitanian Society, and Solidarity for African Women's Right Coalition.

Mary Fitzgerald is a researcher specializing in the Euro-Mediterranean region, with a particular focus on Libya. She has worked on Libya for more than a decade, conducting research for International Crisis Group and the United States Institute of Peace, among others. Fitzgerald is a Non-Resident Scholar at the Middle East Institute in Washington DC, an Associate Fellow at the International Center for the Study of Radicalisation at King's College London, and an Associate Fellow at The Institute for International Political Studies in Milan. Her writing on Libya has appeared in outlets including the New Yorker online, Financial Times, and The Guardian.

Tarek Megerisi is a senior policy fellow with the North Africa and Middle East programme at the European Council on Foreign Relations. He is a political analyst and researcher who specializes in Libyan affairs as well as politics, governance and development in the Arab world.

Sarah Yerkes is a senior fellow at the Carnegie Endowment for International Peace, where her research focuses on Tunisia's political, economic, and security developments as well as state-society relations in the Middle East and North Africa. Yerkes is a former member of the State Department's policy planning staff and was previously a foreign affairs officer in the State's Department's Office of Israel and Palestinian affairs. Yerkes also served as a geopolitical research analyst for the US military's Joint Staff Strategic Plans and Policy Directorate at the Pentagon.