Event
Sextarianism: Sovereignty, Secularism, and the State in Lebanon with Maya Mikdashi and Attiya Ahmad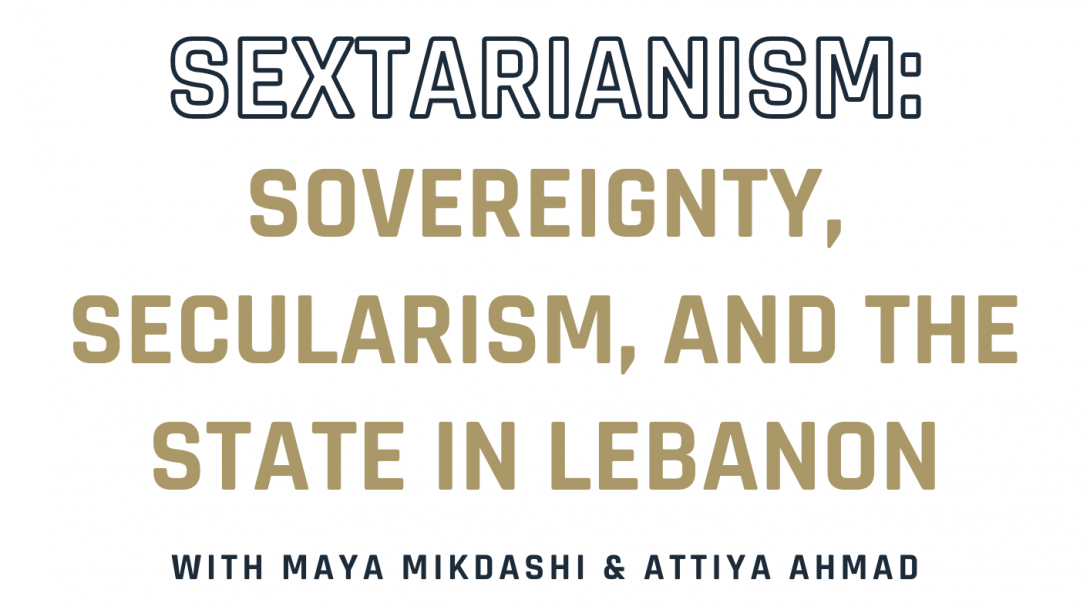 Sextarianism: Sovereignty, Secularism, and the State in Lebanon (Stanford University Press, 2022)
The Lebanese state is structured through religious freedom and secular power sharing across sectarian groups. Every sect has specific laws that govern kinship matters like marriage or inheritance. Together with criminal and civil laws, these laws regulate and produce political difference. But whether women or men, Muslims or Christians, queer or straight, all people in Lebanon have one thing in common—they are biopolitical subjects forged through bureaucratic, ideological, and legal techniques of the state.
With this book, Maya Mikdashi offers a new way to understand state power, theorizing how sex, sexuality, and sect shape and are shaped by law, secularism, and sovereignty. Drawing on court archives, public records, and ethnography of the Court of Cassation, the highest civil court in Lebanon, Mikdashi shows how political difference is entangled with religious, secular, and sexual difference. She presents state power as inevitably contingent, like the practices of everyday life it engenders, focusing on the regulation of religious conversion, the curation of legal archives, state and parastatal violence, and secular activism. Sextarianism locates state power in the experiences, transitions, uprisings, and violence that people in the Middle East continue to live.
This event is co-sponsored by the Gender Equality Initiative in International Affairs (GEIA).
Maya Mikdashi is Assistant Professor at the Department of Women's and Gender Studies and a lecturer in the program in Middle East Studies at Rutgers University, New Brunswick. She is an anthropologist (PhD Columbia University, 2014) who is deeply engaged in ethnographic, legal, and archival theory and methodology. Dr. Mikdashi has been a Mellon Postdoctoral Fellow from 2014-2016 at Rutgers University, and a Faculty Fellow/Director of Graduate Studies, Center for Near Eastern Studies, New York University (2012-2014). She has published widely in peer-reviewed journals and edited volumes, in addition to online platforms. She is a co-founding editor of the e-zine Jadaliyya.com.Maya is also a filmmaker and writer, she is co-director of the feature length documentary film About Baghdad (2004), co- founding member of filmmaking cooperative Quilting Point Productions, and director of Notes on The War (2006). Most recently Dr. Mikdashi co-conceptualized, co-wrote (with director Carlos Motta), and performed in a historical fantasy film set in 19th century Beirut and Bogota, Deseos/رغبات", which is currently playing in international film and art festivals.

Attiya Ahmad is Assistant Professor of Anthropology and International Affairs at The George Washington University. Broadly conceived, her research focuses on the gendered interrelation of Islamic reform movements and political economic processes spanning the Middle East and South Asia, in particular the greater Arabian Peninsula/Persian Gulf and Indian Ocean regions. Dr. Ahmad is currently working on a project focusing on the development of global halal tourism networks. She is the author of Everyday Conversions: Islam, Domestic Work, and South Asian Migrant Women in Kuwait (Duke Press, 2017), and is on the editorial boards of Feminist Studies, The Journal of Middle East Women's Studies and Anthropological Quarterly.