Event
What is Home? Syrian Refugees and the Search for Belonging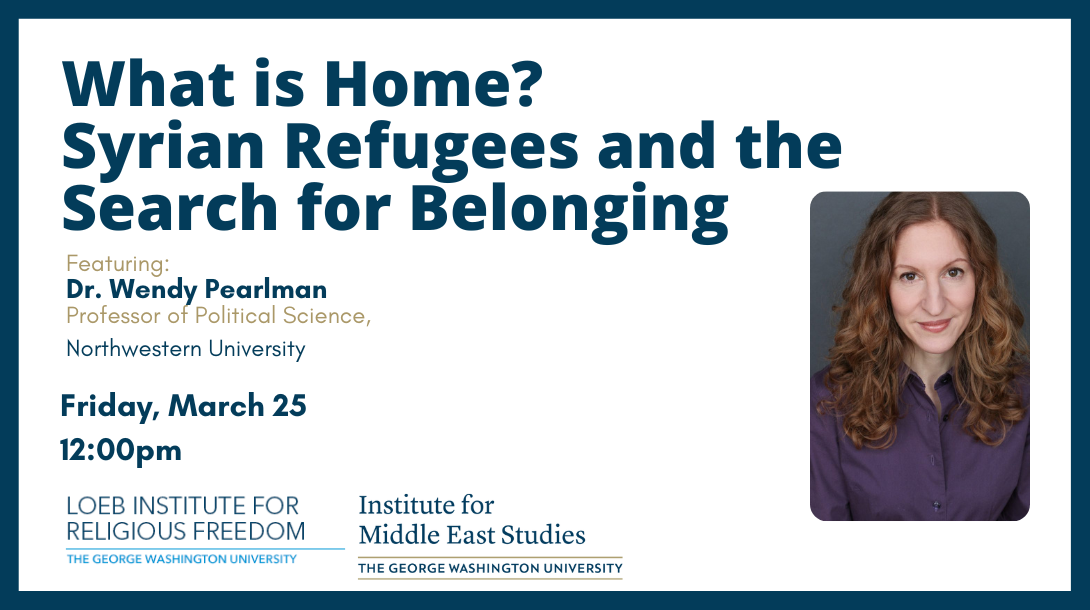 Pulling upon interviews with more than 475 displaced Syrians around the world, this talk explores personal stories of losing, seeking, finding, or not finding home, and what they teach us about the meaning of belonging.
This event will be held in-person at The George Washington University Textile Museum, 701 21st St. NW, Washington, DC 20052. A Zoom link has been provided above for those who wish to attend the event virtually.
Wendy Pearlman is Professor of Political Science at Northwestern University, where she holds the Charles Deering McCormick Professorship of Teaching Excellence and specializes in Middle East politics. She is the author of four books: Occupied Voices: Stories of Everyday Life from the Second Intifada (Nation Books, 2003), Violence, Nonviolence, and the Palestinian National Movement (Cambridge University Press, 2011), and Triadic Coercion: Israel's Targeting of States that Host Nonstate Actors (with Boaz Atzili, Columbia University Press, 2018) and We Crossed a Bridge and It Trembled: Voices from Syria (HarperCollins, 2017). Her new book about Syrian narratives of homes is under contract with Liveright.