News
Apply for a Foreign Language & Area Studies (FLAS) Academic Year Fellowship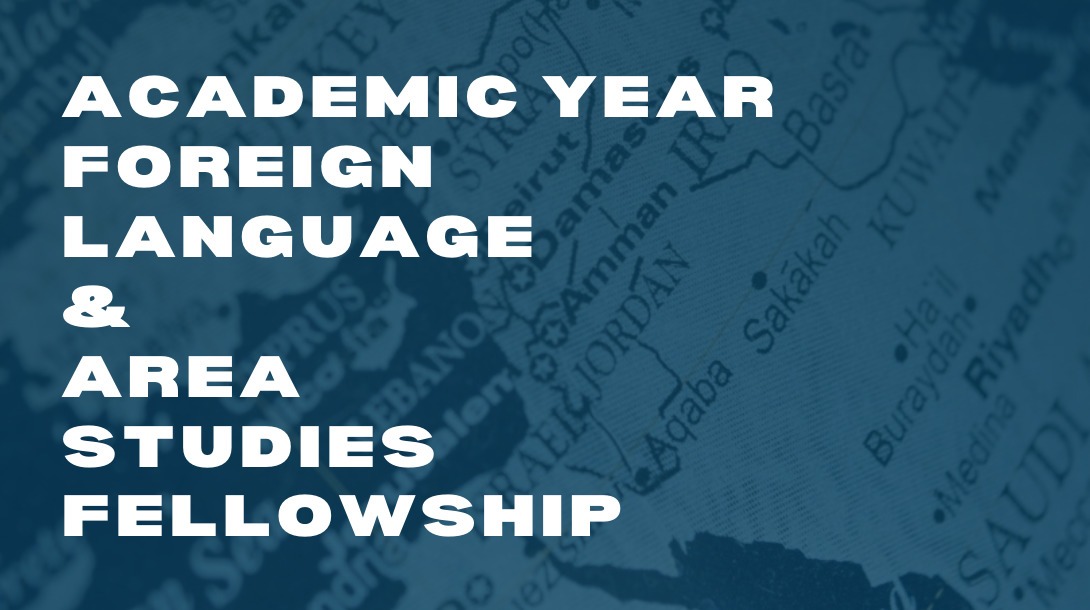 Application Deadline: February 1, 2023
The U.S. Department of Education Foreign Language and Area Studies (FLAS) Fellowship Program provides academic year fellowships to institutions of higher education. The grant to GWU was written by the Institute for Middle East Studies. The fellowship provides support to graduate students (MA and doctoral) in the following GW schools:
The Elliott School of International Affairs (ESIA)
The Columbian College of Arts & Sciences (CCAS)
The Graduate School of Education & Human Development (GSEHD)
Executive education students are not eligible for FLAS. Purely online programs are not eligible. Graduate students in other GW schools (CPS, GWSB, Law, Milken, Nursing and SMHS) are not eligible for the FLAS Academic Year Fellowship but can still be considered for the FLAS Summer Fellowship. Interested applicants from other schools should follow up with their respective deans' offices.
Fellowship recipients must enroll in one eligible language course (in Arabic, Hebrew, Persian, or Turkish) and one eligible area studies course (that covers the Middle East) each semester.
Committee decisions are final. Due to the high volume of applications received for this fellowship, feedback on decisions cannot be provided to applicants. We will not make exceptions on late submissions.
Please review FLAS FAQs for additional pre and post-award information.
Targeted Languages
Arabic
Hebrew
Persian
Turkish
Eligibility
Incoming or current GWU graduate students (PhD and Master's candidates) who will be enrolled for Fall 2023 and Spring 2024. Summer study will not be covered by this award.
Preference is for full-time students. Part-time students will be considered, but if awarded, must go to full-time status for both semesters of the academic year during which they receive the award.
Citizen or permanent resident of the United States.
The applicant must be in good standing in any discipline or program with an international studies focus. Formal language study must also be an important component of the applicant's academic program, and enrollment in a target language class in each semester of the academic year of the award is required.
While applications from language learners at any proficiency level will be considered, priority will be given to applicants at the intermediate level or beyond. Because the grant is supported with funds from the US Government, applicants demonstrating interest in public service careers are given special consideration.
PhDs applying for dissertation research or dissertation writing and Master's candidates applying for study abroad research are welcome to apply.
While not required to submit a FAFSA to be considered, applicants who have established need by submitting a FAFSA will receive preference.
Requirements
Recipients of the FLAS are required to make pre- and post-award reports online to the U.S Department of Education and will be surveyed every two years following their award for a period of up to eight years.
Recipients will take pre- and post-award language proficiency assessments.
Recipients of the award must:

enroll in 1 language course per semester.
enroll in 1 area-studies course per semester.

Recipients are permitted to undertake additional part-time work (on campus or off campus), but not totaling no more than 20 hours a week.
The award is contingent upon the classes listed in the application. If awarded, proposed changes must be submitted to the Institute for Middle East Studies.
Study Abroad/Dissertation Research/Dissertation Writing
Master's candidates may study abroad on the FLAS Academic Year award, but must adhere to the award requirements: one course in the targeted language and one area-studies course. For PhD candidates, the use of the foreign language in the dissertation research must be sufficient enough to equal language improvement in a formal classroom instruction setting. This is also applicable to dissertation writing here at GWU. Please email the Institute for Middle East Studies if you have questions.
(Overseas airfare must be in compliance with the Fly America Act.)
Award
Awards will cover up to 20 credits for the academic year. Awards are up to $20,000 in stipend for the academic year. (Awards do not cover Summer Sessions and do not cover fees.)
Awardees will be chosen by a GW committee on a competitive basis from eligible applicants based on their academic performance, the relevance of language study to their academic programs, their career and professional goals, and their demonstrated ability in foreign language study .
There is no limit on the number of FLAS awards recipients can receive over his/her academic career, but no more than one fellowship can be awarded for the competition cycle. Applicants may apply for both the Academic Year and Summer FLAS awards.
All applicants will be notified of their award status by no later than May 30th.
Required Documents
All application materials must be submitted via the online fellowships application portal. Instructions on how to apply through the portal can be found here.
Application
Statement of Purpose

The Statement of Purpose should show how language study will complement your academic program and contribute to your career goals and interests. Please include a statement describing the international studies focus of your degree program. Language must be integral to your academic program. If you are a PhD candidate applying for dissertation research abroad, you must give details on how your language skills will improve outside formal classroom instruction. This is also applicable to dissertation writing here at GWU. The Statement of Purpose can be up to three pages and should be in 12-point font, 1.5 spacing.

Transcripts

Incoming students must submit undergraduate transcripts. Current full-time students with at least 9 GW credits completed and part-time students with at least 6 GW credits completed are only required to submit unofficial or official GW transcripts. If you are a current student and do not meet this requirement, you must submit undergraduate transcripts.

Resume
Two Academic Recommendations

Your first recommendation should be from a professor familiar with your academic ability and potential. If possible, your second letter should be from a language professor.
Recommendations will be submitted via our online system. Applicants in the online portal should enter the emails and names of their recommenders when prompted in the recommendation section of the online application. Recommenders will then receive an email request to complete his/her recommendation. Applicants will be sent an email confirmation from the system when the recommendations have been submitted.
Recommendation letters can be emailed to the Institute For Middle East Studies but it is strongly advised recommendations are uploaded with the application.
Committee decisions are final. Due to the high volume of applications received for this fellowship, feedback on decisions cannot be provided to applicants. We will not make exceptions for late submissions.