Spotlight
Alumni Spotlight: Anna McMahon, BA '15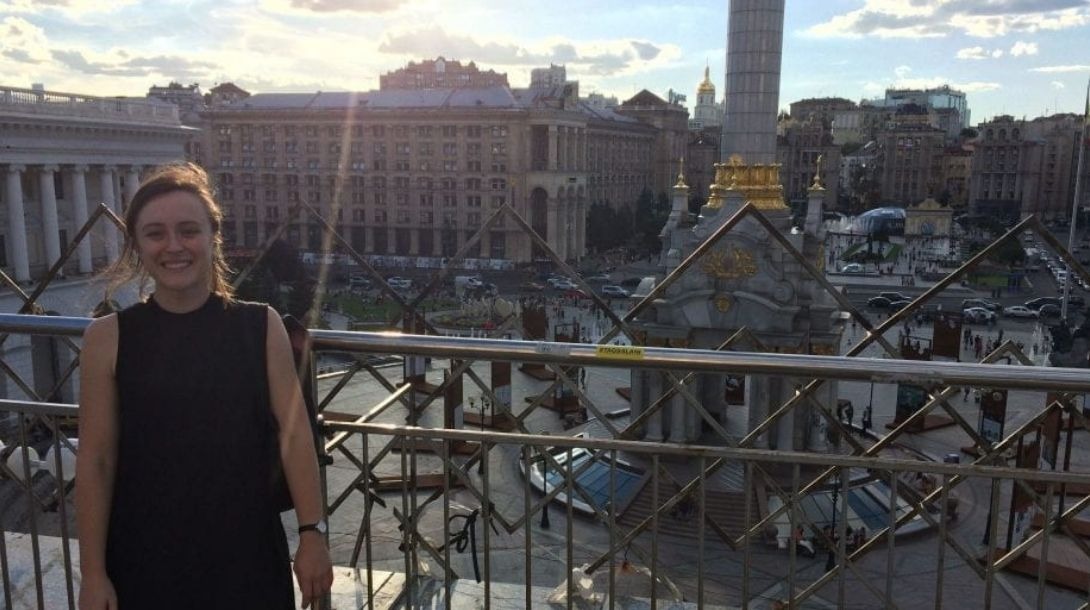 Initially planning to major in International Affairs, Anna McMahon fell in love with the Middle East Studies program instead and graduated with her BA in 2015. While at GW, Anna interned with the American Taskforce for Palestine and completed studies in both Hebrew and Arabic. She also studied abroad for 11 months in Tel Aviv. She struggled with the often one-sided views of the region, and as such she traveled across the West Bank and attended Combatants for Peace tours, which work to shed light on the impacts of Jewish settlements on Palestinian villages. While abroad, she also traveled and backpacked throughout Egypt, Oman, the UAE, Bahrain, Jordan, and Turkey.
Anna's experiences solidified her interest in wanting to continue to support and understand the region, and after returning to GW, she interned for both Amnesty International and Human Rights Watch, focusing on human rights issues in the Middle East. Shortly after graduating, she took a job with the non-governmental organization International Medical Corps (IMC), which works to respond to sudden onset disasters and protracted conflict in providing humanitarian aid. Anna worked at IMC in various capacities abroad and in Washington D.C., traveling to and working in Gaza, the West Bank, Jordan, Turkey, Ukraine, and Iraq, largely supporting programs providing humanitarian assistance to refugees and displaced persons impacted by the Yemen, Syria, Gaza, and Iraq crises. Though she has chosen not to pursue a master's degree for now, Anna has continued her Arabic studies at Johns Hopkins University, studying in their intensive summer graduate-level Arabic program. She is currently working in USAID's Bureau for Humanitarian Assistance (formerly the Office of U.S. Foreign Disaster Assistance/OFDA) as a Disaster Operations Specialist/Humanitarian Assistance Officer.
1. What professor or class stands out in your memory of the program?
I very much enjoyed my global Islamic feminism course as it enabled me to do a lot of un-learning of the more Western feminism I was accustomed to hearing and seeing. I also took one of my required Middle East Studies courses with Marc Lynch and loved the class as it served as my core foundation in Middle East Studies.
2. What advice would you give new students?
I know now that the path isn't linear. Much of what I initially planned to study at GW and become involved in with my internships and professional life changed over time, sometimes purposefully and oftentimes by accident. It's okay to be flexible to whatever life throws at you—both in school and outside of school. Also, studying humans and their actions is complex and ever changing, and I personally argue that there is no rule book to predicting their actions (100% of the time). While diverse academic studies are incredibly important, meeting people in the region, listening to their stories (on all sides of any conflict) and their histories, as well as spending extended time in the region, is just as critical as classroom studies. I also wish I'd known how much work it would take to try and separate myself from a Western view on the region, though I think some of my classes at GW did a good job of that. I could not appreciate it at the time, but I wish I'd known just how important my studies and travels would be in building a professional life for myself later on.