Spotlight
Faculty Book Spotlight: Arguing Islam After the Revival of Arab Politics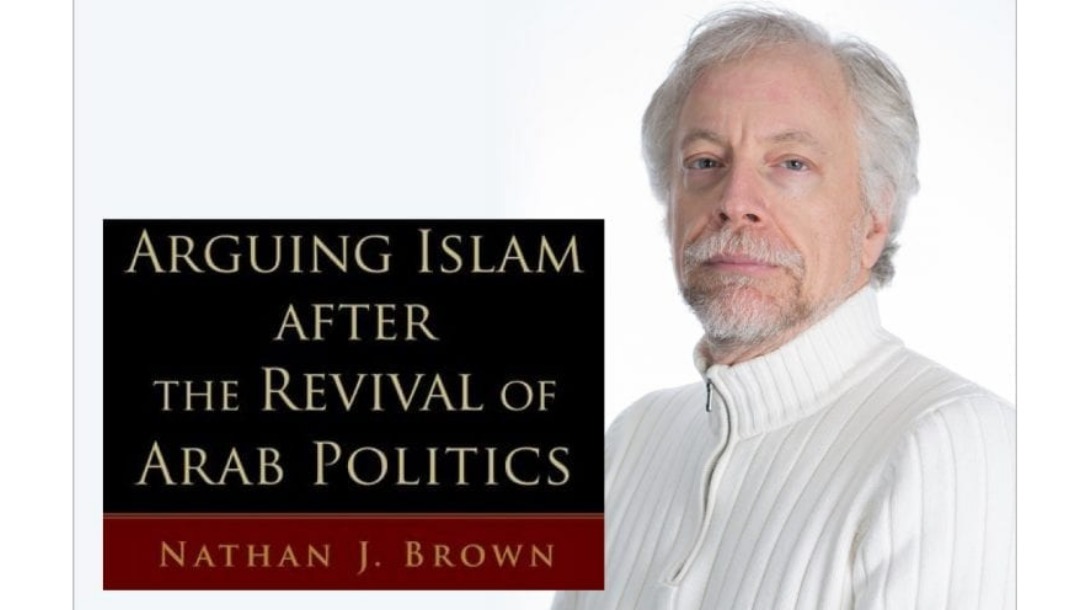 Interview of Dr. Nathan Brown conducted via email by Sumaya Almajdoub, MA '17.
Hello Dr. Brown, I've enjoyed reading your book, and the first question I wanted to ask you is about the title. Your title mentions the "revival of Arab politics," what do you mean by "revival"? When did Arab politics "die"?
I do not think that politics ever completely died, but it was often driven underground. When I did research on Egypt in the 1960s, I was struck by how little politics was part of the public record—when I looked at publications like newspapers there was a narrow range of views, and only top officials seemed able to set the terms of what was said. When I first traveled to the Arab world in the early 1980s, politics did not form a large part of public or private discussion. That really changed beginning in the 1990s in all kinds of public and private channels.
In your book you elaborate on the ways in which lively, complex and nuanced discussions continue to happen in the Arab public sphere, can you give us examples of these discussions?
Even with the authoritarian wave of the past few years, it is still the case that there is a lot more politics discussed in social media, older media, and private conversations.  As an example, "personal status law"—the category of law that covers marriage, divorce, and inheritance—is constantly debated by people who are not only well versed in technical religious vocabulary on those issues but also very aware of the practical implications of small changes in the law. The debate is sensitive, since it involves issues that matter to everybody. But it is also sophisticated.
Do these discussions in the public sphere affect outcomes on the ground? Do they shape policies? Why or why not?
I looked at several areas—constitution writing, school curricula, personal status law—to try to see where public debates actually seemed to affect decisions made by public officials. What I found was that a lot of the debates are not really connected to political realities; officials can and do ignore them. There are exceptions—I found, for instance, cases in which public officials decided to reach out to influential religious and women's rights groups—who eyed each other suspiciously–to make a change to divorce law that had wide support.  But for the most part, debates become more polarized because advocates of contrary views do not have to deal with each other.
What about those who argue that the Arab world is witnessing political apathy due to increased levels of suppression, destabilization and civil strife? How would you respond to them?
I think the level of alienation is growing.  But alienation is not the same as apathy. What I sense is a growing despair about formal politics—parties, organizations, elections—particularly for younger generations. But that alienation from the current order can take many forms—from enthusiastic action in 2011 to withdrawal in 2018—and I think it is very much an open question what form it will take in the coming years.
How has the Arab public sphere changed with the introduction of the internet and social media? Have debates become more polarized? Are these changes only relevant to the Arab public sphere, or is this part of a global phenomenon?
Debates have become more polarized and newer social media may facilitate that process but they are not the driving force.  The way in which regimes have declined (somewhat unevenly) in their ability to control all channels of communication has allowed people to form linkages. That such linkages sometimes lead to silos and echo chambers is not simply a phenomenon in the Arab world.
One phenomenon that is particularly pronounced in the Arab world—though hardly unique to it—is the decline of various kinds of authority. Religious authority, for instance, has not disappeared but it has become more pluralistic. Many more voices join debates and the range of views heard is becoming much greater. And the separation between the two senses of "authority"—ability to make decisions that govern people and ability to have one's views treated with deference—is also marked.
Was there a specific event or incident that inspired you to write this book?
No specific event, no. I was interested even before the 2011 uprisings. But I had begun to notice how lively debates were becoming but how few of those debates seemed to be getting attention.
Was this book easier or harder to write compared to your other publications?
It was much broader. That made it easier in the sense that I did not need to know every detail before starting to write. But it also made it harder, since I had to think a lot more about what generalizations could be justified.
Do you have any advice for aspiring scholars who want to write a book? Or is there anything you'd like to add?
Do not write a scholarly book unless there is a specific question that you think needs to be answered and that you can pose and answer in a compelling way.