Spotlight
Faculty Spotlight: Christopher Rollston on Ancient Prophecy and Forged Antiquities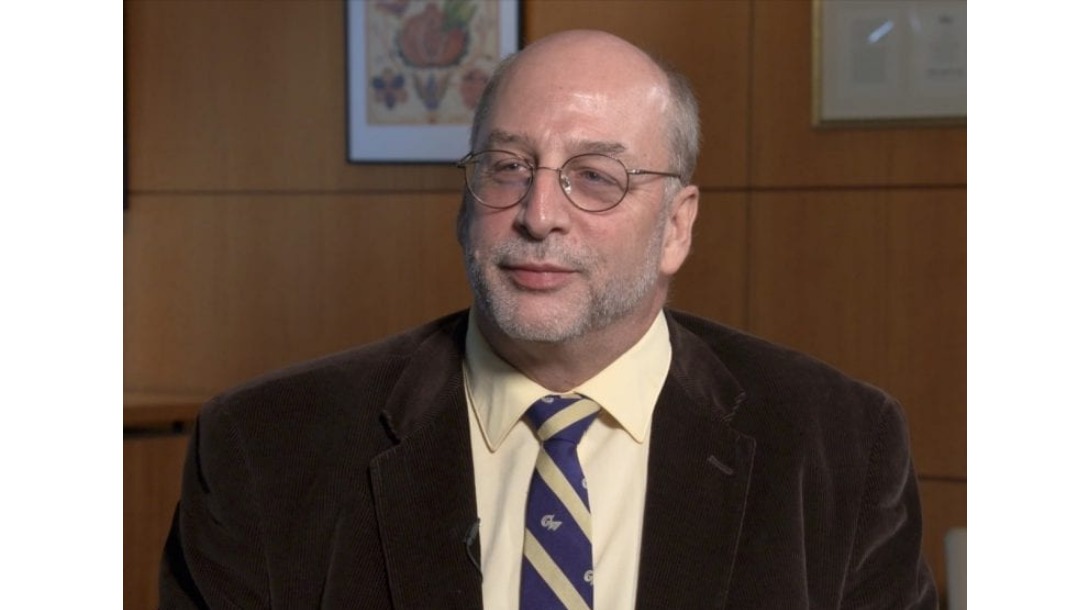 Christopher Rollston is Associate Professor of Northwest Semitic languages and literatures in the Columbian College's Department of Classical and Near Eastern Languages and Civilizations.
Your edited volume Enemies and Friends of the State: Ancient Prophecy in Context (Eisenbrauns, 2018) was just released, and it explores the complex relationship between biblical prophets and state authorities. Who was your favorite (or least favorite) character from the prophets and prophetesses examined by the volume's contributors?
Yes, I am so pleased that this new edited volume of mine has now appeared in print, a volume that focuses on the varied and complex nature of ancient Middle Eastern prophets and prophetesses vis a vis those in positions of power within ancient Near Eastern monarchies (including those in Assyria, Babylon, Syria, Lebanon, Israel, Egypt).  The volume consists of twenty-six articles, written by a constellation of premier scholars from around the world (e.g., Yale, American University of Beirut, Princeton, King's College London, GW).  In terms of the function of prophets in the ancient Near East, as you would imagine, some prophetic figures were simply mouth-pieces for the national government, but the most interesting prophets and prophetesses (from my perspective at least) are those who were ardent critics of governmental policies.
Among all of the ancient Near Eastern prophetic voices, I find a Judean prophetess named Huldah to be the most interesting.  She lived in Jerusalem during the second half of the 7th century B.C., and after a scroll of the Torah was found during renovations in the Temple, the highest officials of the kingdom (who were baffled about its meaning) brought the scroll to Huldah, a prominent woman (2 Kings 22), and she provided an accurate (and damning) interpretation.  By the way, this reminds me to emphasize two very common misconceptions about ancient prophets: (a) many people assume that pretty much all prophets were men.  This is not actually the case: throughout the ancient Near Eastern world, there were male and female prophets; and (b) many people assume that prophecy is an ancient Near Eastern phenomenon that was limited to Israel and Judah.  This is not actually the case either: in reality, prophets are a broadly attested ancient Near Eastern phenomenon, as we have references to prophets and seers in texts written in Akkadian, Egyptian, Aramaic, Ammonite, and Hebrew (among others).
You've given a lot of expert testimony in court cases regarding forged antiquities. Although scientific methods (such as carbon dating) are often used in such cases, you use your linguistic expertise to determine whether the carved writing on antiquities is genuine or forged by modern hands. What was the most interesting forgery case for you (from either an academic/practitioner standpoint or a political standpoint)?
For around 150 years in the field of ancient Semitic languages, modern forgers have been producing forged inscriptions and selling them on the antiquities market, under the pretense that they are ancient.  The motivations are primarily (but not exclusively) economic.  For example, some twenty years ago, the Israel Museum paid $550,000 for an inscription (an inscribed ivory pomegranate) that was assumed to date to the 8th or 7th century B.C., and to have come from the First Temple in Jerusalem.  The consensus opinion now is that this is a modern forgery.  A few years ago, therefore, it was pulled from the exhibit at the Israel Museum.
Similarly, a few years ago, a stone inscription referred to as the "Jehoash Inscription" was offered for sale on the antiquities market for around $2 million US dollars.  The story that was circulated with this inscription was that it was found during clandestine excavations near Haram es-Sharif, that is, the Temple Mount in Jerusalem.  Some fifteen years ago, I had a hand in debunking this very rapidly as a modern forgery, using palaeographic methodologies (for example, a constellation of anomalies in the script of this inscription) and also through the debunking of the laboratory tests that were used to tout its antiquity.  (The forgers created a fake patina and even, rather cleverly, salted flecks of gold and carbonized remains in the fake patina).  Ultimately, it did not end up selling.  At the behest of the district attorney of Jerusalem, I later testified as a prosecution witness about this inscription, as well as about a few others.  I remember the day of my testimony very vividly: I got on the stand around 9:15 a.m. in the morning and got off the stand shortly after 10:00 p.m. that night.  I gave my initial testimony in about an hour, and then I was cross-examined for around ten hours. (I was flying home the next day, hence our staying in session late into the evening.)  For me it was a particularly enjoyable day…I have a book on modern forgeries coming out in 2019, and I'll be recounting that day in some detail.
What is your favorite course to teach?
That's a tough question, as I immensely enjoy teaching….but here are three of my favorites: "The Bible in the Qur'an" (dealing with the shared scriptural traditions of the three Abrahamic religions), "Law and Diplomacy in the Ancient Near East" (dealing with the world's earliest legal and diplomatic texts…which are written in Sumerian and Akkadian), and "Gods and Goddesses of the Ancient Near East" (a course that basically traces the development of Middle Eastern religion from our earliest ancient textual materials down through to modern times).
What research are you working on currently?
I'm currently finishing a book on the history of forged texts…beginning with a famous Babylonian forgery from the 6th century B.C., down to those that are "hot off the press" in the modern Middle East.  That book is currently at about 250 pages in my manuscript and my contractual deadline for it is ca. 325 pages by July 31, 2018.  The next two months are going to be very busy!