Spotlight
IMES Visiting Scholars Spotlight: Dr. Emma Soubrier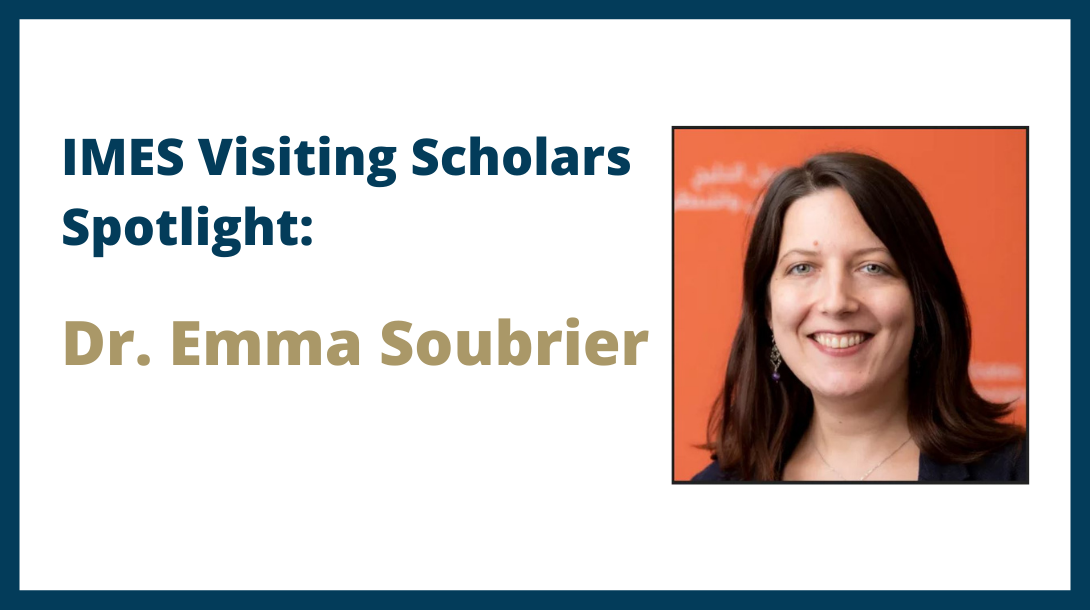 Dr. Emma Soubrier is a French political scientist with a focus on international relations and security studies. She is an associate researcher at the Université Clermont Auvergne where she got her PhD on Gulf evolving security policies and arms procurement dynamics, a non-resident fellow at the World Peace Foundation from Tufts University where she is part of an international research team working on "Defense Industries, Foreign Policy and Armed Conflict", and an expert with the Forum on Arms Trade. Emma has published numerous articles and book chapters in French and English on Gulf security issues. Her work looks to promote a renewed approach to security that no longer focuses merely on the political and military aspects of security but includes a broader look at people-centered dimensions (human security).
Dr. Soubrier's research has been focused on the security strategies and foreign policies of the countries of the Gulf Cooperation Council, particularly the United Arab Emirates, Qatar, and Saudi Arabia, and the political economy of arms trade in the Gulf. She is currently writing the last chapters of her forthcoming book, "Qatar and the United Arab Emirates: Diverging Paths to Regional and Global Power", to be published with Lynne Rienner. This monograph is based on her PhD thesis. She is also in the last phase of a collective research project on "Defense Industries, Foreign Policy and Armed Conflict", within which she oversees the French case study. Within her broader postdoctoral research on the reshaping of Gulf security along the lines of the Prince-States' defense strategies, she is also exploring the potential shift of these actors to a more critical approach to security, as there has never been a more relevant and pressing time to seriously reconsider what national security means, and start including risks pertaining to human security, such as environmental security, societal security and health security, as an inherent part of it.
Are there unique research tools or resources available at GW that brought you here?
Several aspects have brought me to GW, and specifically to the IMES. In terms of infrastructure, I was really drawn to the opportunity of working and using the resources available at the Gelman Library on campus, with its team of helpful and experienced librarians and information specialists. My interest in the work of the Project on Middle East Political Science (POMEPS), directed by Prof. Marc Lynch and hosted at the IMES, has also been an important factor contributing to my application to become a Visiting Scholar at GW.
Have you noticed anything unique about the GW students you've worked with (either overseeing research or teaching them in class?)
The GW students I have had the opportunity to work with so far are very passionate about the Middle East and uniquely attracted to learning more about new topics within and approaches to their areas of interest. Such an enthusiasm and dedication as well as a marked thirst for constant additional knowledge, including when it challenges preconceived ideas and notions, are not only promising foundations for a career working on and/or in the region, but they are also a joy to work with.
What advice do you have for students thinking about going on to a PhD program?
Undertaking a PhD program is a peculiar, long, and at times particularly lonely adventure that requires a good amount of prior consideration before embarking upon it. A key suggestion: make sure you identify a network of people that are willing and able to accompany you on this journey, in terms of their knowledge of the topic / area you want to cover, of providing guidance, and offering support. Other suggestions include reading and probing to establish if your subject is sufficiently original and likely to bring something new to the field, participating in international symposiums and conferences, and constantly keeping an eye on the finish line: to quote one of my early mentors, "a good PhD is a done PhD".