Event
Generating Arabic Buy-in: Getting Students and Families on Board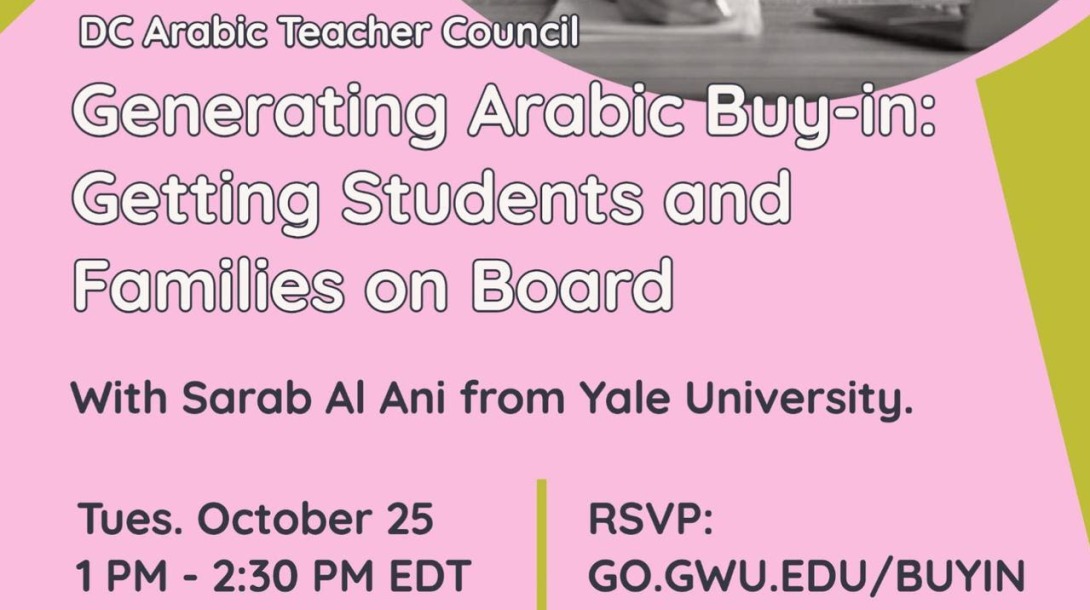 This workshop will consider Arabic language learners in the United States to answer the question of who is studying Arabic now and why. After gaining an understanding of the current atmosphere of Arabic language learners and their families, the presentation will explore strategies and techniques that help to generate buy-in and get both students and the families they come from on board with starting to study and continuing to study Arabic. This will include free accessible resources for institutions, parents, and learners.
The workshop will be interactive. Attendees will be asked to share, participate, and collaborate in different parts of the presentation using the Zoom chat as well as the Zoom polling feature.
Generating Arabic buy-in_DC Arabic Language Council_October_2022_Sarab Al Ani Presentation Slides
Sarab Al Ani Sarab Al Ani is the Language Program Director of Arabic at Yale University. She is an author of reading materials for learners of Arabic as a foreign language. She is a writer and blogger on issues of foreign language pedagogy, theory, and practice. In addition to teacher training, her current professional interests focus on using technology for language teaching and overcoming challenges that face students of Arabic in the U.S. She also offers online courses on Second Language Teaching and Learning with ViaX. Sarab is an active full certified tester and rater in Arabic with the American Council on the Teaching of Foreign Languages (ACTFL) for both the OPI, ILR as well as AAPLL tests.