Event
Opportunities for Arabic Learners Beyond the Classroom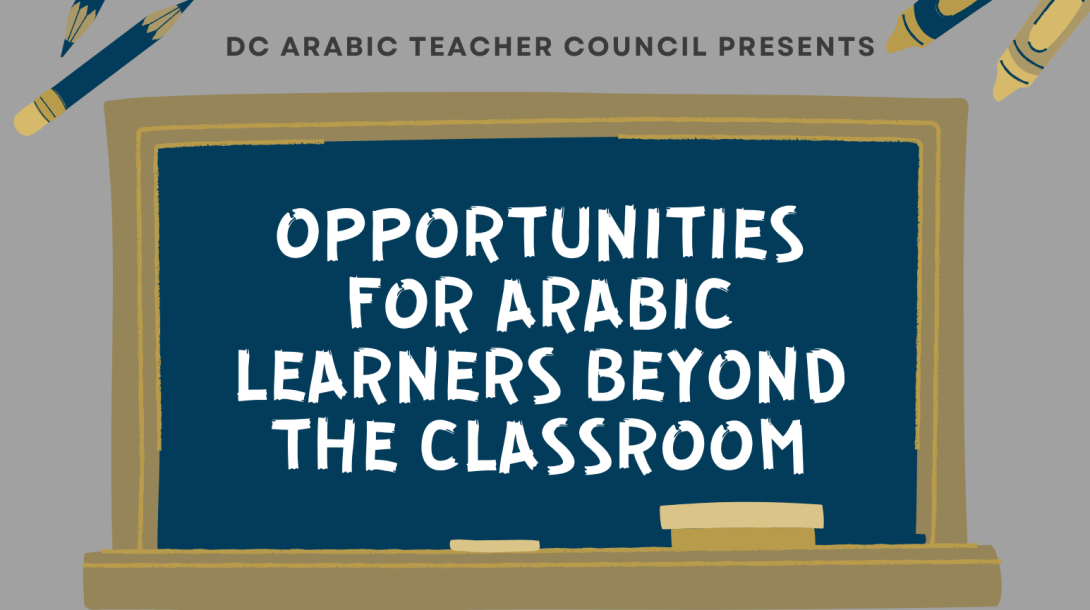 This workshop will inform teachers and instructors how to help students navigate the opportunities, programs, and scholarships available to students seeking to learn Arabic at the secondary level and beyond. As small critical language programs, we are often faced with the challenges of how to help encourage our students to continue learning Arabic beyond our classrooms. The workshop will include some resources for your programs that you can take back to your students immediately. The format will be both a presentation and a discussion in which attendees will be asked to share and participate in adding to our existing resource guide (ppt) filled with opportunities for motivated Arabic learners.
Opportunities for Arabic Learners Beyond the Classroom–Hasan & Abughoush Powerpoint
Fadi Abughoush has worked in the field of Public Education at Chicago Public Schools (CPS) for the past 15 years. He played a vital role in creating, managing and expanding the World Language curriculum at Lindblom Math & Science Academy. As the department chair, he oversees the Arabic and Chinese language program at Lindblom. Mr. Abughoush is a leader in World Language Education, spearheading Comprehensible Input in his field. Since 2008, he has been teaching Arabic as a foreign language to students from grades 8 through 12. In his role at Lindblom, he developed and implemented an Arabic language curriculum and also takes pride in incorporating aspects of Arab culture (including music, art, film, poetry, literature, and cuisine) throughout his teaching and work with students. At Lindblom, he helped establish Chicago's first Arabic V course (during the 2014-15 school year). In addition to serving as the current Administrator in the World Language Department at Lindblom, Mr. Abughoush is a board member of the Chicago Arabic Teacher's Council. Previously, he was part of a team who created the WL Guidance Document for all Chicago Public Schools. Mr. Abughoush has traveled with students several times over the course of his career. In March 2014 and 2016 he led Lindblom's Arabic debate team to the International Schools Arabic Debate Championship Competition in Doha, Qatar. In 2017 and 2018, he traveled with students to Amman, Jordan for the annual Arab Youth Congress and last Spring Break he led a group of students to Morocco on a week-long cultural excursion.

Annie Hasan is a Palestinian-American teacher of Arabic in Kansas. She currently teaches World Regional Studies and Arabic, levels 1-4H, at Shawnee Mission South High School in the Shawnee Mission School District (SMSD).  SMSD was one of the first school districts in the USA to offer an Arabic language program at a public high school, and it has been doing so for 30 years.  She has 14 years of experience teaching both World Regional Studies and Arabic levels 1-8, all at the Shawnee Mission South and Shawnee Mission West high schools. Ms. Hasan is active in attending language conferences and has presented at KSWLA, ACTFL and NECTFL. Teaching high schoolers Arabic is her passion and so she tries to stay current on best practices and loves observing teachers in her school teach. In addition to teaching, Ms. Hasan leads student trips abroad and has traveled with them to Morocco, Qatar, Jordan, and the UAE. She serves on the Kansas Seal of Biliteracy Council, on the SMS DEIB team, and SMSD WL Curriculum Council. She also sponsors Arabic Honor Society, Arabic Club, International Club, and the SMS Arabic Debate team. As someone who grew up in a bilingual home and who advocates multilingual education, Ms. Hasan is honored and eager to work with other Arabic language teachers to continue developing Arabic language programs across the country and promoting Arabic language opportunities for all students.