Event
Resource Sharing for Arabic Middle & High School Teachers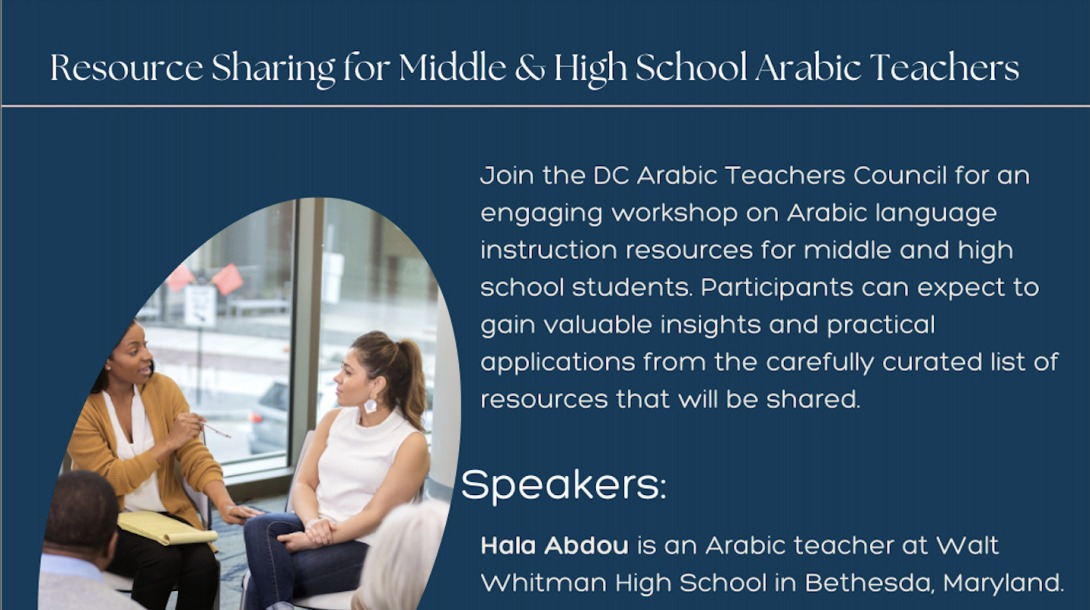 Join the DC Arabic Teachers Council for an engaging workshop on Arabic language instruction resources for middle and high school students. This workshop promises to be an exceptional opportunity for participants to enhance their skills and knowledge in the field of Arabic language instruction. Participants can expect to gain valuable insights and practical applications from the carefully curated list of resources that will be shared. Moreover, the workshop will be highly collaborative and interactive, providing ample opportunities for participants to share their own experiences and learn from one another.
Access the presentation slideshows here:
Sarah Malik is a teacher and instructional coach at Al Huda School in College Park, Maryland. She has a master's degree and is a certified teacher and has been teaching Arabic to non-native speakers for over 10 years. She recently started working on projects focusing on cross-curricular connections between culture, science, history, geography, and language (Arabic). She is also involved in UbD design curriculum planning and creating teachable content for K-12 learners. She enjoys traveling across the Arab world and is familiar with North African culture and dialects as well as Levantine culture and dialects and is skilled in the comparison of dialects, the origin of Arabic words, and fostering linguistic comparative and analytic abilities. Her experience with French, Urdu, and Turkish helps her relate cultures, words, worlds, and geographies and allows her to create a dynamic, inclusive, and globalized classroom.

Hala Abdou started her teaching career in Egypt and began teaching Arabic in the US in 2004. She has taught Arabic as a foreign language at the secondary school level and in a variety of settings, with experience in both face-to-face and virtual teaching in different public schools. She believes in "teaching through art" and completed a Kennedy Center Certificate on this topic in 2009. She also studied with the NOVA Institute to obtain a Waldorf Teacher Training Certificate in 2014. She completed her Master's in Foreign Language, Secondary Education at George Washington University and is working toward her EdD in Waldorf Education at Antioch University.